OUR PERFORMANCE SERIES!
MARK YOUR CALENDARS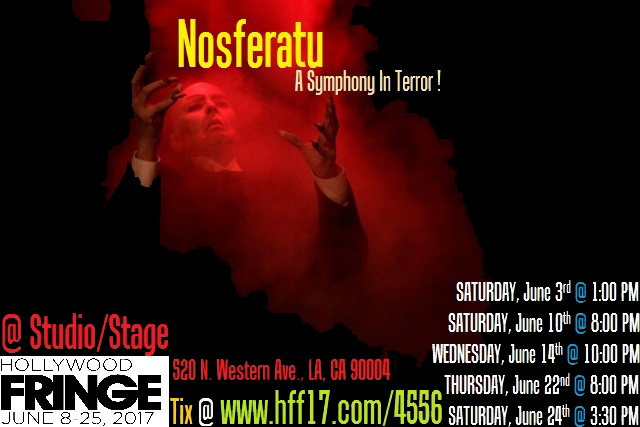 Michelle is Count Orlok
in this unique staged version of the iconic first vampire film ever made!
Full of gorgeous dancing, beautiful music, and, oh yes, vampires.
Crown City Theatre,
as part of the Hollywood Fringe Festival
presents: NOSFERATU, a Symphony in Terror


Regarded as seminal masterpiece of the cinema, Crown City presents "Nosferatu" through the magic of music, dance and drama. This is a unique and unforgettable evening of theatre. Winner of various NoHo and Eddon Awards as well as nominated for several Broadway World Awards. "Nosferatu is something so memorable and challenging and fascinating that I will reference it in my mind for a very, very long time" - NoHoArts
Original film by F.W. MURNAU
Adapted for the stage by WILLIAM A. REILLY
Directed by WILLIAM A. REILLY
Choreographed by LISAUN WITTINGHAM
Produced by ROLANDO J. VARGAS
Opening Saturday, June 3
Five performances running through Saturday, June 24
Studio/Stage (Main Space)
520 N. Western Avenue
Los Angeles, CA 90004
818-605-5685
Tickets: http://www.hff17.com/4556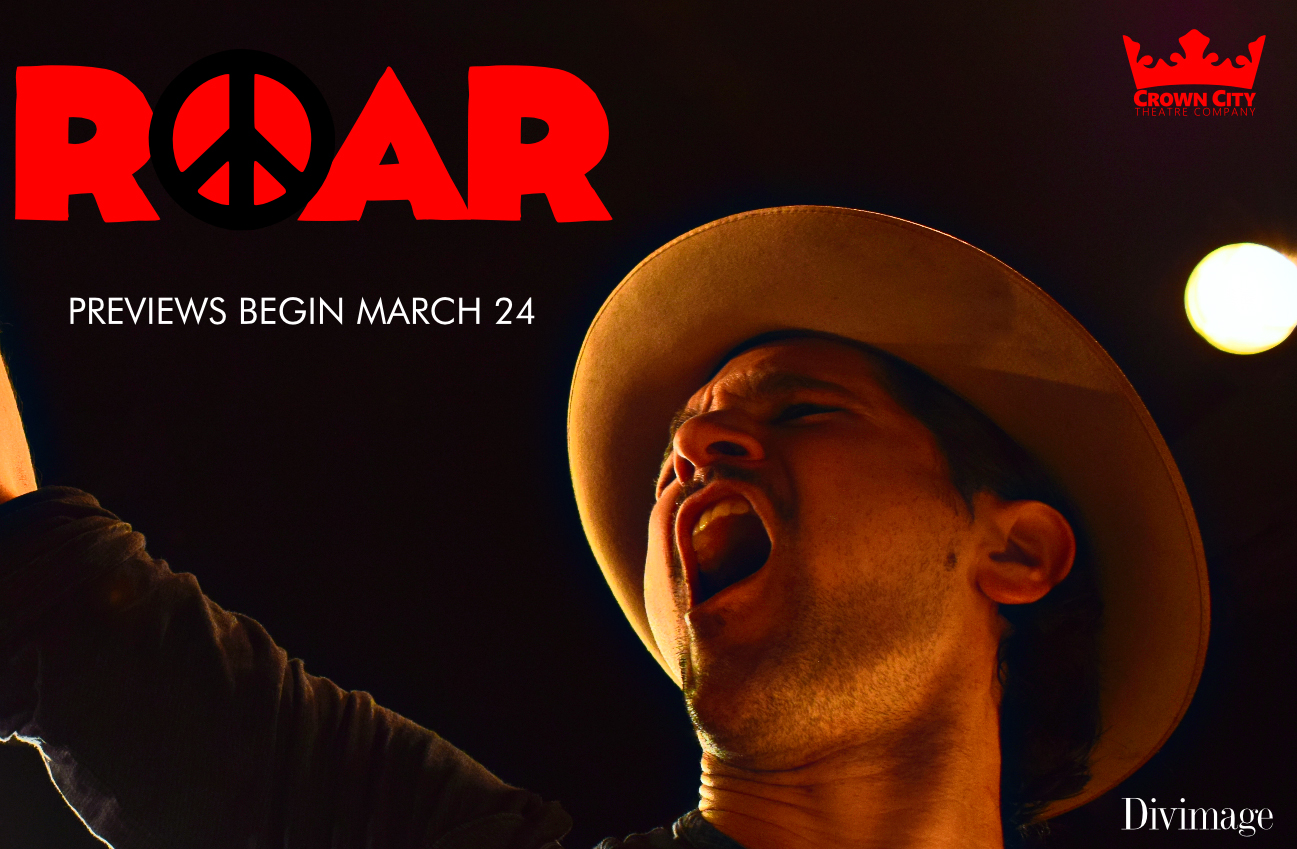 Crown City Theatre
presents:
ROAR, Rock on American Resurrection
Michelle on Bass and Vocals

Through the voices of Arlo Guthrie, Pete Seeger, Joni Mitchell and Bob Dylan, ROAR shares the music of social justice and protest. Starring Davitt Felder and The First Amendments...this celebration of the American spirit through folk and rock is a powerful expression of our obligations as citizens to raise our voices in song.
Directed by ANTONIA BOGDANOVICH
Artistic Directors - BILL REILLY and GARY LAMB
Show Design - ZAD POTTER
Photos by DIVIMAGE
A portion of all tickets sold will go to a charity voted for by the audience!
Opening Thursday, March 30
Running Fridays and Saturdays at 8 p.m., Sundays at 3 p.m. through June 4
Crown City Theatre
11031 Camarillo Street
North Hollywood, CA 91602
info@crowncitytheatre.com
Tickets: http://www.crowncitytheatre.com
VIDEOS!

KATE HUTTON
Directed by the inventive and amazing Bob Kent, "Kate Hutton" is Crazy Aunt Mary's unique, unexpected, and absolutely wonderful video in honor of the famous CalTech seismologist.
Listen to and buy our debut album, Sexy Epsilon, at CDBaby.com.!!
INDIAN HILLS (A tribute to planned communities)



For Omaha. Beautifully shot by Don Solosan and featuring Annette Conlon, Carrie Wade, and the always amazing Steve Pinkey. Performed live for NetteRadio at The Talking Stick in Venice! Download "Indian Hills" on iTunes, Amazon, or CD Baby from "Sexy Epsilon."




MARTHA STEWART'S DOG (She's a Milk Bone on two feet)!!



It's finally here!! Brainchild of the gifted director and animator Bob Kent, starring Steve Pinkney, Michelle Holmes, Edie Robertson, and Stephanie Danielson. The music is spiced up by Carrie Wade on lead backup vocals and Bud Harner on drums. You can find the song on iTunes and lots of other online venues. But you can always find us at CD Baby! And we're always broadcast on Live Music Media!! Boy do we love them! We are so excited to be releasing this video. Thank you for everyone's support. You've been amazing!!!




QUIET WATER is a dream that wrote itself



By our brilliant filmmaker, Bob Kent. The video stars the amazing Sheryl Arenson, Andrew Pari, Melanie MacQueen, Daniel Leslie, and introducing Rose Pinkney. And our Doug Forsyth is on drums!



SEXY EPSILON
Bob Kent has done it again. From the movie "Angus Petfarkin Paints His Masterpiece," this movie is a wild ride into the mind of an artist and into his future. And we do mean future! Thanks again, Bob!!
And you can't miss Michelle doing Gilbert and Sullivan ...
Directed by Eugene Hutchins, "When Our Gallant Norman Foes" is a bloodthirsty and fun aria from "The Yeomen of the Guard", originally done at Sierra Madre Playhouse, and seen here at Opera San Luis Obispo. Special thanks to Steve Kubick and Katie Trimble!
IT'S A WRAP!!

"Angus Petfarkin Paints His Masterpiece," is now available on DVD! Our song,"Sexy Epsilon," was written for the film, and Steve and Michelle also played on the score. The movie is the brainchild of Bob Kent, who directed all of our videos, which you can find here on our website or on our YouTube page. The movie stars Bob and the wonderful Ruth de Sosa. Michelle is also in the film with Bob and the talented Daniel Leslie. If you'd like to watch the "Angus Petfarkin" trailer, just click here to see it on YouTube. The movie is available for purchase, and you can get it through the Rhamphorhynchus Pictures web site or on FilmBaby.com.


Crazy Aunt Mary on The WAVE!

Michelle was the Guest DJ on KTWV 94.7 The Wave! If missed the show and would like to hear it, or liked it so much you want to hear it again, just click on the links below and enjoy!!

Set 1
The In Crowd -- Ramsey Lewis
Sara Smile -- Hall & Oates
The Theme from "Shaft" -- Isaac Hayes
Biggest Part of Me -- Ambrosia

Set 2
Grazin' in the Grass -- Hugh Masekela
The Thrill is Gone -- B.B. King
Take Five -- Dave Brubeck

Set 3
Cast Your Fate to the Wind -- Vince Guaraldi
I Can't Tell You Why -- Eagles
Green Onions -- Booker T and the M.G.s
Hey, Nineteen -- Steely Dan



SOMETHING NEW!
Michelle's song "Cup of Joe" was played on "Sauced!", the number one Clear Channel Sunday radio show in Nashville! Check out the Saucy Sisters and find out what they're all about!


WE'VE HIT THE TOP TEN!!
Crazy Aunt Mary's song "Last One Home Tonight" entered 3WestTV.com's Top Ten at #9 and in four weeks has climbed to #3. Thank you 3WestTV.com listeners!!


Crazy Aunt Mary is a hit in New York! Our videos Sexy Epsilon, Kate Hutton, Quiet Water, and A Little Bit Better This Christmas have aired on Channel 115 Saturday nights for Home Grown Video! We've also been interviewed for the show and on their radio program. Find out more at Live Music Media.

Our video "Kate Hutton" (see it below!) has also been chosen to air on a nationally broadcast TV program sponsored by Sam Ash!!


News! Michelle Holmes receives the ASCAPlus award for EIGHT years in a row, and she is now a GRAMMY voter!

More News!! Michelle's song "Indian Hills" places in the top five (and number one for the west coast!) in the Indiegrrl International Songwriting Competition! Woo Hoo!!

Okay, it keeps coming!! Michelle and Steve received Honorable Mentions for their songs Black Emerald and Run Into the Sun in the Billboard World Song Contest! They say we not only know how to write hit songs, but Steve got free guitar strings! How cool is that!!
"Month After Month"
You can hear Crazy Aunt Mary's song "Month After Month" on their AirPlayDirect.com site. It was written for the West Coast premiere of the play "Months on End" at Theatre 40 in Beverly Hills and directed by Melanie Mac Queen. It was written by the very talented playwright Craig Pospisil.
"Chrissie Hynde with Broadway chops."
-- A.J. Diamond, Musician
"A distinctive lead singer is one of the most valuable musical commodities a modern band can possess. On this front (they) succeed in spades, thanks to the prowess of vocalist/bassist Michelle Holmes. Fusing the dramatic clarity of pop with the pronounced intelligence of acoustic music, Holmes' interpretive powers are sparked by the sheer intensity of her potent rock delivery. Front and center, her voice is a beacon of clarity, illuminating the path of the band. Lead guitarist Steve Pinkney shines with both his muscular neo-psychedelic leads and as spotlighted on an extended acoustic guitar intro on the song, 'Hey, Steve Hawking.'"
-- Dan Kimpel, for Sunset Strip Radio